TCT was invited to attend 2020 WAIC: "Smart Rail Transit Innovation Center" becomes key contracted project of Shanghai
The Cloud Summit of 2020 World Artificial Intelligence Conference (WAIC) was held at the Shanghai World Expo Center from July 9 to 11. It was hosted by Shanghai Municipal People's Government. With the topic of "Intelligent Connectivity, Indivisible Community", the conference was adopted for the first time the "cloud summit" model. More than 20 industry forums were held. And over 550 guest speakers were invited, including seven Turing Award winners, one Nobel Prize winner , 62 Chinese and foreign academicians, as well as heads of leading Chinese and international companies such as Baidu, Tencent, Microsoft and Amazon. Focusing on artificial intelligence (AI), the conference expressed a common value among humans that AI should be used for the good of the world.

On the afternoon of July 11, a signing ceremony for Shanghai's key AI projects were held at this conference. After winning the Top 30 of the Sail Award at the 2019 WAIC, Traffic Control Technology Co., Ltd. ("TCT"), with its "TCT East China Smart Rail Transit Innovation Center" Project, attended this signing ceremony. Plus Baidu's Flying Paddle Empowerment Center, Huawei's "Kunpeng + Shengteng" Innovation Center and Allride's Vehicle-Road Cooperative Application, a total of 36 projects were contracted, with a total investment of over 30 billion yuan. Gong Zheng, deputy secretary of the Shanghai Municipal Party Committee and acting mayor of Shanghai, and Wu Qing, member of the Standing Committee of the Shanghai Municipal Party Committee and deputy mayor of the city, attended and witnessed this signing ceremony.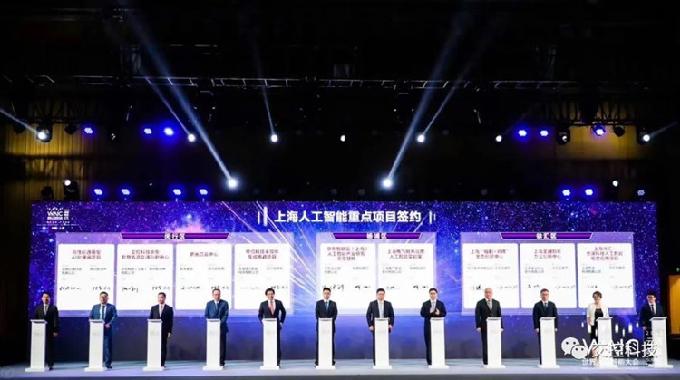 Zhang Rixin (second from left), assistant to the president of TCT and general manager of TCT Shanghai, participates in this ceremony.
The TCT East China Smart Rail Transit Innovation Center aims to improve the full-life-cycle maintenance efficiency of the rail transit system, reduce the full-life-cycle maintenance cost of the system, and offer passengers with an excellent travel experience. It will explore new rail transit infrastructure by adopting 5G + AICDE, i.e. fifth-generation mobile communication plus AI, internet of things (IoT), cloud platform, data, edge computing, and other new technologies. This center will empower the existing rail transit equipment, and drive the digital and intelligent development of the entire transportation industry through technological innovation. Rail transit will be integrated with IoT, Industry 4.0, industrial internet and other technologies to provide customized travel solutions such as route recommendations, vehicle reservations, smart security checks based on passengers' individual needs, thus greatly improving passengers' travel experience.
This conference brought together the world's strongest lineup of AI and industry leaders both at home and abroad to share industry trends. Various new forces of AI appeared together to jointly convey the latest trends of industry reforms and build a consensus on development. With a focus on the new wave of AI, TCT will also vigorously develop AI, empower its rail transit business, continue to simulate new impetus for the development of the industry, and embark on a new journey of smart rail transit.