On July 23, 2020, the 1st Anniversary Summit of 2020 Opening of Science and Technology Innovation Board and the Award Ceremony of 2020 The Awards of Sci-Tech Innovators co-sponsored by Minhang District People's Government and Interface – Financial Association was held in Shanghai Hongqiao Funds Town.
2020 The Awards of Sci-Tech Innovators selects application enterprises based on the basic situation of industry and company, R&D and innovation and enterprise social responsibility, conducts comprehensive and professional review based on the opinions of experts, scholars and experienced financial and economic journalists, selects "Young Giant of Science and Technology Innovation in China" and set benchmark for Chinese science and technology innovation enterprises. As one of the first batch of 25 enterprises listed on science and technology innovation board, Traffic Control Technology Co., Ltd. (hereinafter referred to as "TCT", 688015.SH) was unanimously recognized by the selection committee and social and economic development by means of its comprehensive performance in the industry and awarded as the best enterprises of 2020 Sci-Tech Innovators.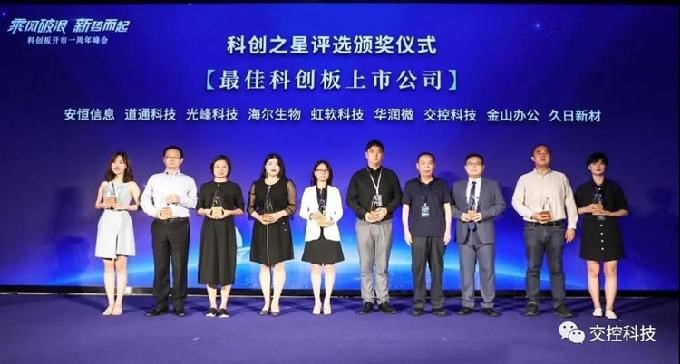 Chairman Assistant Zhang Rixin (the third person on the right) of TCT (Shanghai) attended the award ceremony
TCT has always insisted on scientific and technology innovation since the listing. The market share of company has ranked the first in rail transit signal system for two consecutive years. In the future, as the leader of rail transit innovation technology, TCT will take listing on science and technology innovation board as the starting point, committed to providing more intelligent and personalized rail transit innovation technology for China and the world, constantly meet the requirement for better travel experience and empower for returning the nation with industry!